Three people. Three lives. Three cities. What links Lily Hopkins, Una Widger and Beatrice Federici together is not geography but a passion to make the UK technology industry a more diverse place. A place that celebrates different perspectives and experiences.
Together they are helping define a new vision for inclusivity at TSI and, as key parts of our Pride Programmers and IT Girls support groups, are leading advocates for positive change across the organisation. Here they share more about their career journeys, their experiences at TSI, and their ambitions for the future.
Inclusivity issues
The UK tech industry continues to thrive and is now worth an estimated £764 billion. Yet, despite its significant growth in recent years, its historical reputation for a lack of diversity remains. Having graduated from Cardiff University this year with a degree in mathematics, it was something Una knew all too well: "When I was looking for jobs after graduation, I was certainly aware that the technology industry did not have a great track record when it came to diversity and embracing people from different backgrounds. Despite half my university course being made up of women, I noticed there were a lot less women going into technology-based industries."
According to techUK, only a sixth (16 percent) of IT professionals identify as female, while only 8.5 percent of senior leaders in the UK are from ethnic minority groups and less than ten percent have a disability. This is despite research showing that embracing diversity in the workplace enhances long-term profitability, as well as improved employee satisfaction and retention.
"Everyone has got a unique viewpoint based on their life experiences and tapping into all those perspectives is incredibly important. If you don't, and the people working for you are only from one small group, the likelihood is you are not getting a diverse set of ideas, opinions, and thoughts on what the business or its customers need."
There are even greater benefits for technology companies, something Lily points out: "Take an area like product development for example, it is critical to ensure that people with different needs are having these met, which makes it even more important for those building products and software to have different perspectives on things."
Change is coming
Changing the status quo in any industry is never easy. But with greater awareness and support, it can be done. Part of that process is recognising the barriers that exist preventing minorities and under-represented groups from seeking out careers in the technology industry.
For Beatrice, one area that needs more focus is education: "There needs to be more outreach to women and other minorities at a younger age, letting them know career paths in technology are available. While a large percentage of people tend to come through the higher education system, it is important that other routes exist for people who have not gone down that path but equally have something to offer. One of the great things about TSI is that it will hire people who have not gone through the higher education system and give them a chance to have successful careers in tech."
From its inception, TSI has set out to make the training it provides in the latest technologies and programming languages more accessible to underrepresented and minority groups. An essential building block to creating an inclusive and welcoming workplace has been its Pride Programmers and IT Girls support groups. These groups – open to all staff– meet once a week and have an important function within TSI, offering a safe space to have open and honest conversations with senior leaders about how the company is performing in respect to supporting minority groups.
"Having your voice heard and knowing that there is always someone you can turn to for support is vital in the workplace," said Beatrice. This support network is even more important to the mental health and wellbeing of staff, who may be dealing with personal challenges that impact their work life and happiness. "These topics are not always something people always feel comfortable discussing with their co-workers, so it was refreshing to know that support network existed at TSI," added Una.
"It can be really challenging to feel like one community with everyone spread out physically, but these groups have helped us see our colleagues as more than just people we interact with on a screen. I loved getting my TSI gift box with a hoody and a backpack as these are small but constant reminders that I am part of a bigger community at TSI –one that is there to support me," Lily commented.
By actively seeking the feedback and input from members, TSI aims to consistently enhance the support, professional development and training it offers people from all walks of life –regardless of their race, gender, sexual orientation, or socioeconomic background.
Training a new generation
At its heart, TSI is a people business. Central to that is our academy, where learners are taught both the latest technologies and the skills to put them into practice for some of the world's largest companies.
Having had a passion for computer science since a young age, Lily spent a lot of time after graduation exploring ways to kickstart a career in technology – selecting the TSI bootcamp to take her professional development to the next level: "The fact you get paid as part of your training inspires confidence that what you are learning is the most up-to-date and relevant skills for the industry. But you also get taught valuable consultancy skills that empower you to communicate with clients and help understand the business perspective too."
As someone self-taught how to program, Beatrice was keen to highlight how the training at TSI covers all bases: "The courses are well-rounded and suitable for beginners, but also helped fill in gaps in my own knowledge which has proved invaluable."
But central to the entire training process is creating a diverse and supportive network for learners of all ages, experiences, and backgrounds. "Going through the training as part of a cohort is brilliant; if you are stuck on something, then other people can help you and vice versa. Not only do you get to meet loads of different people with unique life experiences but getting to then work with them on client projects is such a great support."
A brighter future
TSI has made some positive strides in creating a safe and inclusive workplace, but for CEO Tony Lysak, there is more that can be done in the future: "Diversity and inclusion are not just boxes that can be ticked. We recognise it is an on-going evolution that requires us to listen to the needs of the communities that exist within TSI, take that feedback on board, and help more people from disadvantaged and underrepresented groups go on to have hugely successful careers in the technology industry. We understand we may not get everything right first time, but by having a diverse set of voices and opinions in the room, we will learn and grow and make positive changes that benefit everyone."
So, what does that future look like? In short, more support groups, more community engagement, more representation at senior levels, and more awareness of issues impacting the wellbeing of teams across the business.
For Lily, Una, and Beatrice, they will go on doing what they do best: supporting each other and those around them– using their voices, experiences, and stories to celebrate diversity and inclusion across TSI and the technology industry.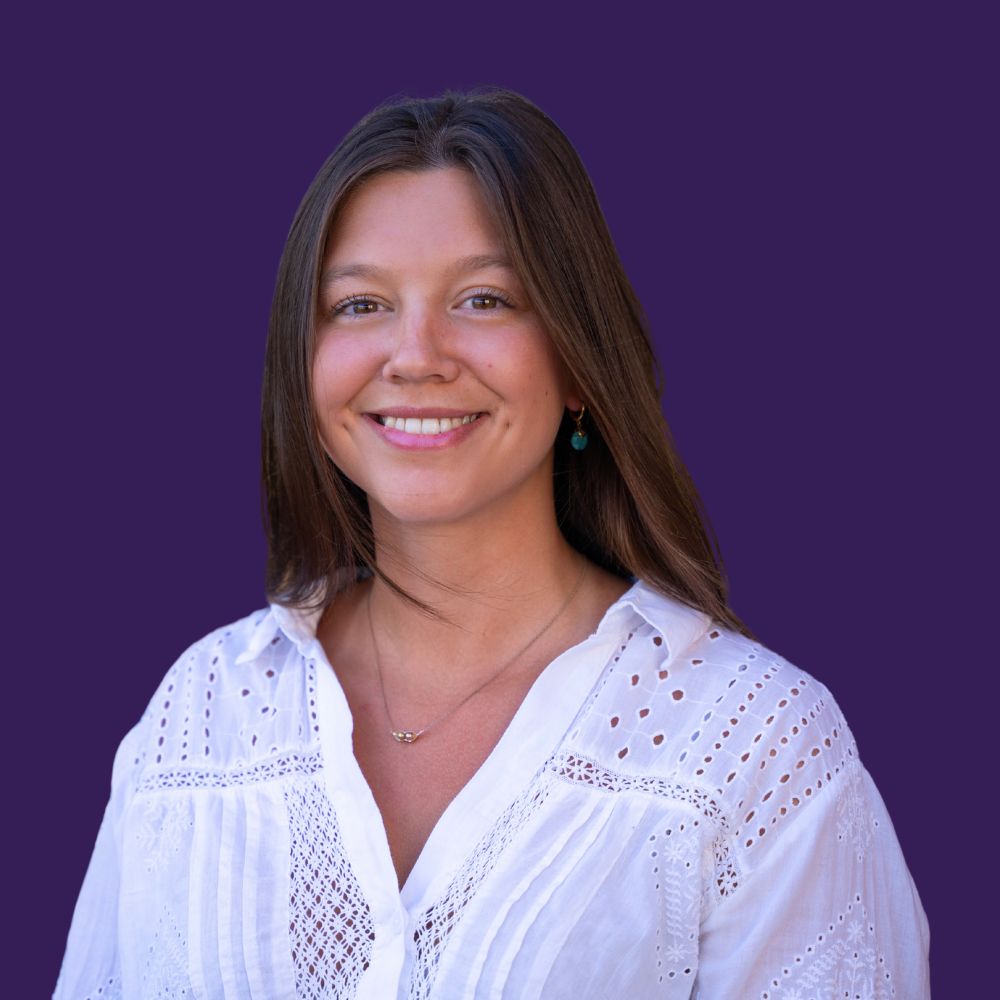 Harriet Trundle
Harriet has experience of working closely with a number of the world's largest software vendors and their enterprise accounts and has rapidly built relationships through her understanding of the technologies and the markets their customer's support. Regarding her role at the Software Institute, 'it is really exciting to be a part of a company that is addressing the challenges of the digital skills gap in such a unique way, on a global scale, whilst supporting our partners and enterprise customers increase customer adoption of their technologies. I feel lucky to be part of an organisation that is committed to providing individuals, from all walks of life, access to technical training to help them stand out as they take their first steps into the software industry. Harriet manages a team of account managers supporting a variety of sectors build internal capability. She is also on the board of our I.T Girls society and works closely with the team to ensure gender balance initiatives are executed as part of our fundamental DEI strategies.